Professor, Mathematics — Member, Applied Mathematics (Graduate Group)
Member, Optimization group — Faculty Affiliate, DataLab — Member, Computer Science (Graduate Group)
---
News & Events — Research — Publications — Math Software — Teaching — Other — Contact
---
Events
On sabbatical 2019–2020. Follow me on Twitter (mkoeppe_math) for updates.
News
June 2019: An improved SageMath interface to polymake is available in SageMath, version 8.8, using JuPyMake instead of pseudo-terminal (pexpect) interactions. It can be used directly or via the backend for polyhedral computations using polymake.
June 2019: The final paper of our series on Intermediate Sums on Polyhedra (with V. Baldoni, N. Berline, J.A. De Loera, M. Vergne) has just appeared in the new open access journal Algebraic Combinatorics. Part III: Three Ehrhart quasi-polynomials concludes the series by giving an algorithmic approximation theory for real multi-parameter Ehrhart quasi-polynomials. It builds upon Part 0: Computation of the highest coefficients of weighted Ehrhart quasi-polynomials ..., Part I: Computation and real Ehrhart theory, and Part II: Bidegree and Poisson formula.

May 2019: IPCO 2019, the 20th Conference on Integer Programming and Combinatorial Optimization, Ann Arbor, Michigan. Accepted paper: On perturbation spaces of minimal valid functions: Inverse semigroup theory and equivariant decomposition theorem (with Robert Hildebrand, Yuan Zhou). Full paper (arXiv, 61 pages). More about the infinite group problem
June 2017: IPCO 2017, the 19th Conference on Integer Programming and Combinatorial Optimization, June 26–28, 2017, Waterloo, Canada. Accepted paper: On the notions of facets, weak facets, and extreme functions of the Gomory–Johnson infinite group problem (with Yuan Zhou)

March 2017: The lives of mathematics, by Francesc Serés, describes his impressions of Sage Days 84: Polytopes in Sage, February 27–March 12, 2017, at the Faber Residency in Olot, Catalunya, Spain.
March 2017: SageMath, version 7.6, now has a polyhedral computation backend based on Normaliz, making the outstanding performance of Normaliz for polyhedral computation in medium to high dimensions available to SageMath users.
January 2017: Normaliz version 3.2.0, developed by Winfried Bruns et al. at Osnabrück, has a new autotools build system contributed by me.

November 2016: Our paper New computer-based search strategies for extreme functions of the Gomory–Johnson infinite group problem (with Yuan Zhou; version 3) has appeared in Math. Programming Computation.

May 2016: New paper: Toward computer-assisted discovery and automated proofs of cutting plane theorems (with Yuan Zhou), presented at ISCO 2016.
New undergraduate major at UC Davis (from 2014/15): B.S. in Mathematical Analytics and Operations Research.
---
Research
My research interests are mathematical optimization (integer programming) and computational discrete mathematics.
Selected funded projects
Workgroup at UC Davis:

Jiawei Wang (Ph.D. candidate)

Alumni of the workgroup:

Amitabh Basu (Krener Assist. Prof. 2010–2013; faculty at Johns Hopkins University, Dept. of Applied Mathematics and Statistics, 2013–)
Robert Hildebrand (Ph.D. 2013; postdoc at ETH Zürich 2013–2015; Goldstine Fellow at IBM Research 2015–2017; Simons Institute Fellow 2017; tenure-track faculty at Virginia Tech, 2018–)
Brandon Dutra (Ph.D. 2016; co-advised with J. De Loera; now software engineer at Google)
Yuan Zhou (Ph.D. 2017; tenure-track faculty at U. Kentucky, Mathematics 2017–)
Chun Yu Hong (undergraduate researcher 2013; now Ph.D. student at UC Berkeley)
Peijun Xiao (undergraduate researcher 2015–2017)
Yao Shuidie (undergraduate researcher 2016–2017)

Other collaborators at UC Davis:
Selected Publications, Theses and Preprints (see also my Google Scholar profile and arXiv)

... on multi-row cuts, cut-generating functions, Gomory–Johnson's infinite group relaxation:

... on primal integer programming:

... on mixed-integer nonlinear optimization:

... on game theory and bilevel optimization:

... on effective generating function methods, integration, and summation:

... on enumerative combinatorics and number theory: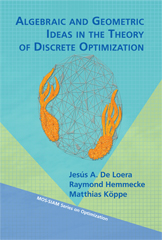 ... a textbook and research monograph:

... more...

Selected Mathematical Software and Data (see also GitHub)
GYWOPT, an interactive system for exploring primal reformulations of integer linear programs, containing an implementation of the Integral Basis Method (with U.-U. Haus, 2000–2005)

LattE integrale, the successor to LattE and LattE macchiato (with V. Baldoni, N. Berline, J. De Loera, B. Dutra, M. Vergne and several contributing students, 2006–)

This software counts lattice points in rational polyhedra using state-of-the-art variants of Barvinok's algorithm, computes Ehrhart polynomials, volumes of polytopes and integrals of polynomial functions over polytopes, and computes the highest coefficients of weighted Ehrhart quasi-polynomials.

4ti2, a software package for algebraic, geometric and combinatorial problems on linear spaces (with R. Hemmecke, R. Hemmecke, P. Malkin, M. Walter, 2008–)

This software implements state-of-the-art algorithms for the computation of Graver bases, Hilbert bases, extreme rays of cones, toric Gröbner bases, Markov bases, and more.

cutgeneratingfunctionology: SageMath program for computation and experimentation with the 1-row Gomory–Johnson infinite group problem and beyond (with C. Y. Hong, Y. Zhou, J. Wang, 2013–)

This software implements an automated extremality test for piecewise linear functions (which are allowed to be discontinuous) and contains an electronic compendium of extreme functions.

Since 2015, I have made various contributions to the SageMath system: In particular, see this meta-ticket on Improvements to the SageMath mixed integer linear programming interface (#20302). My current project is to improve SageMath's build system (#21566, #21507).
---
Teaching
Watch my lectures (from the 2010 MSRI summer school "Algebraic, Geometric, and Combinatorial Methods for Optimization") on tools from the geometry of numbers, with a focus on rational generating function techniques for integer programming. So in these lectures I introduce lattices, the LLL algorithm, Lenstra's algorithm for integer programming in fixed dimension, Barvinok's theory of short rational generating functions, and the summation method for polynomial integer programming: Lectures 1, 2, 3, 4, 5, 6 and 7
Recent graduate courses:
Current/recent upper-division undergraduate courses:
---
Etc.
---
Contact
By email:
Business address, office and phone number:

University of California, Davis           
Department of Mathematics
One Shields Avenue                        
Davis, CA 95616                           
USA

Office: MSB 3143        
                        
Phone: none
Skype: mkoeppe.ucdavis

Office hours for my current classes: See department page
If you want to set up an appointment with me, you might find my Availability Calendar useful.