Wellman Hall
Room 216
Saturday, October 22, 2005
Remember: the deadline for registration is Friday, October 14!
Please click here for a conference poster to print, post, and distribute.
The Eleventh Bay Area Discrete Math Day (BAD Math Day) will take place on the campus of UC Davis, Saturday, October 22, 2005 between 10:00am and 6:00pm. All talks will be held in room 216 in Wellman Hall.
BAD Math Days are one-day meetings aimed at facilitating communication between researchers and graduate students of discrete mathematics around the San Francisco Bay Area. These days happen twice a year and strive to create an informal atmosphere to talk about discrete mathematics. The term "discrete mathematics" is chosen to include at least the following topics: Algebraic and Enumerative Combinatorics, Discrete Geometry, Graph Theory, Coding and Design Theory, Combinatorial Aspects of Computational Algebra and Geometry, Combinatorial Optimization, Probabilistic Combinatorics, and Combinatorics in Mathematical Physics.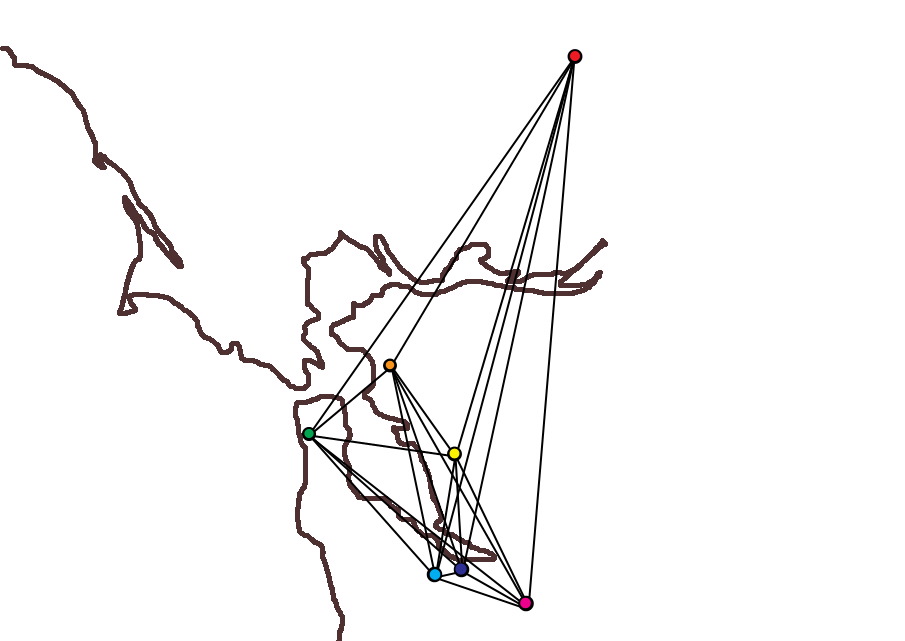 Schedule
Click on talk titles for abstracts; click on speaker names for speaker homepages.
Food
Lunch will be provided for free (IF you RSVP'd!!) on-site, in the student lounge of 102 Wellman. (This is also where coffee/tea are held.)
Dinner will be held at Hunan, 508 2nd St #104, Davis, CA 95616; 530-753-5174. (See map . Go up the steps as though going into the Golden 1 Credit Union; corner of 2nd+D.)
Dinner will cost approximately $13 for students and $20 for others, plus beverages will be paid SEPARATELY. (It is imperative you RSVP if you are coming to dinner so we can give the restaurant an accurate head count and avoid extra charges.)
Directions and parking
Parking lot instructions and directions to BAD Math: To get from the parking lot (14 or 15) to BAD Math Day, see this map . Walk south (continuing on California Ave) past the traffic circle. You will see signs for Kerr Hall and Wellman Hall on your left. Wellman Hall is pictured here. (If you have parked in Lot 25, walk east to the traffic circle at California Ave, and turn right. Wellman is on your left.) Talks are in 216 Wellman (2nd floor, East side of building). Refreshments are in 102 Wellman (1st floor, West side of building).

Taking public transit to BAD Math Day

It is possible to take public transit to UCD on BAD Math Day. The Amtrak train has a station in Davis . See the Amtrak website for schedules and the station nearest you (there is a station in Richmond which is BART accessible.) (One can check train status at 1-800-USA-RAIL (1-800-872-7245) as well, most easily if you remember the train number, e.g. 526.) The train ride from Richmond is roughly 90 minutes. Walking from the train to campus: From the train station, located at 840 2nd St., walk west down 2nd street. You'll pass G, F, ... , eventually A Street. Then you will hit campus. If you continue in pretty much a straight line, you will reach Wellman Hall. (En route you will pass the Quad on your left and Memorial Union on your right, just before Wellman.) Allow 15 minutes for the walk.

Driving:

See also http://www.math.ucdavis.edu/contact/directions . Carpools will be arranged. Contact Monica or the BADMath Organizing Committee member geographically nearest you to get into a carpool.

From SF or the East Bay: Directions to Parking Lots 15/14: (See map .) Get on Interstate 80 East. Exit on Richards Blvd, and go North (right). This turns into E Street. Go 5 blocks north on E (crossing 1st, 2nd, ...). Make a left (West) on 5th Street, which changes name to Russel Blvd. Turn left on California Ave. (There is no light here, but it is just after Howard and Oak, which do have lights. In fact, it is OK if you turn left on Howard and enter Lot 14/15 from the east.) Lot 14 will be on your left, after the soccer field, and adjacent to Lot 15 (which you may also park in).
Allow at least 90 minutes from the end of the Bay Bridge to UCD.

(Alternate directions to Visitor Parking Lot 25: (See map .) Drive on Interstate 80 East. Just before Davis turn north on Highway 113 north (note that 113 south is almost 5 miles west of 113 north). Take Highway 113 north a short distance to its first exit at Hutchison Drive. Turn right on Hutchison. Drive (east) about 1/2 mile on Hutchison until La Rue. Left on La Rue maybe 1/4 mile and turn right on Orchard Park; drive into Visitor's Parking Lot VP 25. However, as there is another campus event going on, we recommend the above directions to Lot 14.)

From Santa Clara Valley (from Palo Alto and San Jose): One can take 101 North to the 80 East/Bay Bridge and follow the directions above. However, because of bridge construction, you should consider taking the 84 or 92 East across the Bay, then the 880 North, connecting to 80 East (which coincides momentarily with 580 West!).

Probably you should carpool; please e-mail Monica Vazirani (vazirani@math.ucdavis.edu) if you're interested in doing so and you don't have a natural group to go with.
Registration:
No registration fee will be charged, but please RSVP to the local organizer, Monica Vazirani (vazirani@math.ucdavis.edu), by
Friday, October 14
so we have an accurate count of who's coming. When you RSVP, please let us know:
If you want meat. Our default otherwise will be vegetarian. But do let us know if you are vegan.
If you have any dietary restrictions.
If you will be attending dinner.
Information about previous BAD Math Days is available below. (Apologies: links to abstracts, etc., will mostly not work.)
The BADMath Committee: