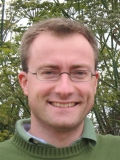 Matthias Koeppe
Professor
Discrete Optimization
Ph.D., 2002, University of Magdeburg, Germany
Publications:
Math arXiv
AMS Math Reviews
Web Page: http://www.math.ucdavis.edu/~mkoeppe/
Email: mkoeppe@math.ucdavis.edu
Office: MSB 3143
Phone: 530-754-0479

Research
Matthias Köppe works in
mathematical optimization
and computational
discrete mathematics
. His specialty,
integer programming
, is concerned with mathematical optimization problems where variables can take only integer values and are constrained by linear inequalities. In this context it is natural to study the interaction of
point lattices
and
polyhedra
. To solve integer programs and related problems, Dr. Köppe has applied techniques from discrete geometry (Hilbert bases) and algorithmic enumerative
combinatorics
(rational generating functions).
Selected Publications
Selected Awards and Fellowships
1995–1999 Fellow of the German National Merit Foundation (Studienstiftung des deutschen Volkes)
2003 Dissertation Award of the German Operations Research Society (GOR)
2006–2007 Feodor Lynen Research Fellowship (short-term fellowship) of the Alexander von Humboldt Foundation
Last updated: 2011-09-02