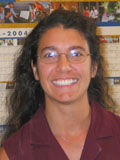 Monica Vazirani
Professor
Representation theory, combinatorics
Ph.D., 1999, University of California, Berkeley
Publications:
Math arXiv
AMS Math Reviews
Web Page: http://www.math.ucdavis.edu/~vazirani/
Email: vazirani@math.ucdavis.edu
Office: MSB 3224
Phone: 530-754-0498

Research
Professor Monica Vazirani studies combinatorial representation theory. Representation theory is the study of symmetry. As such, it gives us the tools to solve problems about any system that exhibits symmetry, and so has wide applications in other areas of mathematics, as well as in chemistry, physics, and computer science. Her area of expertise is the representation theory of Hecke algebras and Khovanov-Lauda-Rouquier (KLR) algebras. Hecke algebras arise naturally in many areas of mathematics and physics, such as quantum groups, quantum field theory, statistical mechanics, and knot theory. KLR algebras were invented to categorify quantum groups, and have connections to quantum 3-manifold invariants. She studie s their irreducible representations, which are the most basic objects whose symmetries are encoded in these algebras.
Selected Publications
Last updated: 2011-09-07