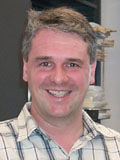 Bruno Nachtergaele
Distinguished Professor
Mathematical physics
Ph.D. (in Physics), 1987, KU Leuven
Publications:
Math arXiv
AMS Math Reviews
Web Page: http://www.math.ucdavis.edu/~bxn/
Email: bxn@math.ucdavis.edu
Office: MSB 3142
Current Courses: MAT 22B
Office Hours: Tue 11am-12pm, Thu 1-2pm.
Phone: 530-754-0478

Research
Bruno Nachtergaele works in
Mathematical Physics
. His main interests are Equilibrium and Non-Equilibrium
Statistical Mechanics
, Quantum Spin Systems,
Quantum Information
, and applications of these fields in
Condensed Matter Physics
and
Materials Science
.
Selected publications
Honors and Awards
2007, Elected Fellow of the American Association for the Advancement of Science
2002, Invited Lecture International Congress of Mathematicians, Beijing
Last updated: 2008-03-11