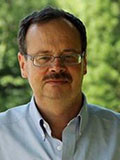 Michael Kapovich
Distinguished Professor

Hyperbolic geometry, geometric topology, geometric group theory

Ph.D., 1988, Institute of Mathematics, Siberian Branch of Soviet Academy of Sci., Novosibirsk

Research
Low dimensional geometry and topology. Kleinian groups and hyperbolic manifolds.
Representation varieties of finitely generated groups.
Configuration spaces of arrangements and mechanical linkages.
Spaces of nonpositive curvature.
Geometric representation theory of Lie groups.
Selected Publications
Honors and Awards
Gold medal of the Soviet ministry of higher education for the best master thesis, 1985-86
NSF grants 1993-1995, 1996-1999, 1999-2002, 2002-2005, 2004-2008, 2006-2009, 2009-2012, 2012-2015, 2015-2019.
Last updated: 2019-09-14