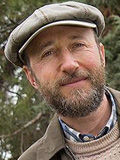 Alex Mogilner
Professor Emeritus
Mathematical biology
Ph.D., 1990, USSR Academy of Science; Ph.D., 1995, University of British Columbia
Refereed publications:
Via
Math Reviews
Web Page: http://www.math.ucdavis.edu/~mogilner/
Email: mogilner@math.ucdavis.edu

Research
Alex Mogilner does research in
mathematical biology
and
biophysics
. More specifically, he uses methods of
applied math
, theoretical biophysics, and system biology to understand how cells move and how they divide. In the past few years, Alex focused on modeling
mitotic spindle
assembly and keratocyte
cell migration
.
Selected publications