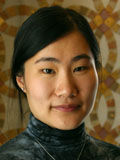 Fu Liu
Associate Professor
Enumerative and Algebraic Combinatorics
Ph.D.,2006, Massachusettes Institute of Technology, Cambridge
Refereed publications:
Via
Math Reviews
Web Page: http://www.math.ucdavis.edu/~fuliu/
Email: fuliu@math.ucdavis.edu
Office: MSB 3220
Phone: 530-754-0496

Research
Fu Liu's research interests are in enumerative
combinatorics
and algebraic combinatorics. Much of her work is on
Ehrhart polynomials
and volume of different
polytopes
. She also has done work with connections to
representation theory
,
algebraic geometry
and
statistics
.
Publications
Awards and Fellowships
Hellman Fellowship, 2011-2012
Clay Liftoff Fellowship, 2006
Charles W. and Jennifer C. Johnson Prize, MIT, 2006
Last updated: 2012-04-19