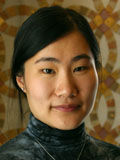 Fu Liu
Associate Professor
Enumerative and Algebraic Combinatorics
Ph.D.,2006, Massachusettes Institute of Technology, Cambridge
Refereed publications:
Via
Math Reviews
Web Page: http://www.math.ucdavis.edu/~fuliu/
Email: fuliu@math.ucdavis.edu
Office: MSB 3220
Phone: 530-754-0496

Research
Fu Liu's research interests are in enumerative
combinatorics
and algebraic combinatorics. Much of her work is on
Ehrhart polynomials
and volume of different
polytopes
. She also has done work with connections to
representation theory
,
algebraic geometry
and
statistics
.
Publications
[1] Liu, F., and B. Osserman, "The irreducibility of certain pure-cycle Hurwitz spaces, American Journal of Mathematics , 130(6):1687-1708, 2008. Full Text. [arXiv:math.AG/0609118].

[2] F. Liu, "A note on lattice-face polytopes and their Ehrhart polynomials," Proceedings of the American Mathematical Society, 137(10):3247-3258, 2009. Full Text. [arXiv:0810.4655].

[3] F. Liu, "Combinatorial bases for multilinear parts of free algebras with two compatible brackets," Journal of Algebra, 323(1):132-166, 2010, Full Text. [arXiv:0808.3439].

[4] F. Liu, "Higher integrality conditions, volumes and Ehrhart polynomials" Advances in Mathematics, 226(4):3467-3494, 2011, Full Text.[arXiv:0911.2051].

Awards and Fellowships
Hellman Fellowship, 2011-2012
Clay Liftoff Fellowship, 2006
Charles W. and Jennifer C. Johnson Prize, MIT, 2006

Last updated: 2012-04-19