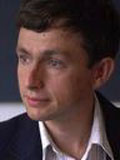 Greg Kuperberg
Professor
Topology and combinatorics
Ph.D., 1991, University of California, Berkeley
Refereed publications:
Via
Math Reviews
Web Page: http://www.math.ucdavis.edu/~greg/
Email: greg@math.ucdavis.edu
Office: MSB 2216

Research
I do research in various areas of mathematics, including quantum algebra, quantum probability and computation, geometric topology, combinatorics, and convex geometry. The word "quantum" in the sense of my research means non-commutative generalizations of mathematical objects that are usually described by commutative algebras. Quantum probability is the study of non-commutative algebras and random variables, quantum groups are like Lie groups but with non-commuting coordinates, etc. I also have non-quantum results and interests in geometry and combinatorics, some of them inspired by quantum mathematics.
Selected Publications
Honors and Awards
NSF Postdoctoral Fellowship, 1991-1994
Sloan Foundation Research Fellowship, 1998
Students
Dongseok Kim (2003), Chris Bumgardner (2010), Sonya Berg (2012), Rohit Thomas, Stephen Lu.
Last updated: 2012-04-14